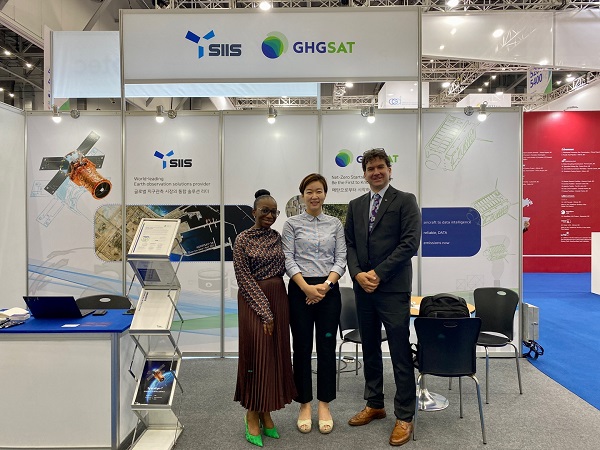 SI Imaging Services (SIIS) will operate a joint booth with GHGSat at the World Gas Congress 2022 (WGC) held at EXCO in Daegu, South Korea, from the 23rd of May for five days. 
The World Gas Conference is the world's largest, international, gas conference that has continued its 90-year history and tradition and will be held in Daegu for the first time in Korea. Governments, NGOs, industry officials, environmental experts, and technical experts from each country exchange their knowledge, technology, and information on gas and discuss the development and energy agenda of the global gas industry. Above all, carbon neutrality is expected to be the biggest issue due to the severe climate crisis.
SIIS has supplied VHR satellite imagery of KOMPSAT series 2, 3, 3A, and 5 worldwide. As the need for ESG management (Environmental, Social and Corporate Governance) has emerged rapidly in recent years, it entered into an official partnership with GHGSat in June of last year, and it started to supply remote, methane, monitoring services using satellites to Korea and East Asia.
GHGSat's satellites provide 100 times higher spatial resolution than existing greenhouse gas observation satellites and is differentiated for its technology in pinpointing the exact source of methane emissions at the facility level in the Oil and Gas sector.
An official from SIIS said, "This year, we have decided to run a joint booth with GHGSat at the World Gas Conference to inform the industry of the high-resolution methane monitoring satellites. We will establish a foothold to help companies and institutions realize their ESG management goals. It will become more and more important for organizations and companies worldwide to actively respond to environmental issues, and carbon neutrality is the most important task. Gaining the upper hand in carbon diplomacy is expected to bring appropriate development and a sustainable future to our entire industry. "